There is lots written about the benefits of being a Virtual Assistant and particularly of working at home. You read articles, see photos of healthy looking people running on the beach, playing ball with their kids, driving a flashy car, or sitting under a tree with their laptop.
The reality is very different – not unenjoyable, otherwise I wouldn't still be in a home office over 12 years down the track. But, I don't get the time to run on the beach, my kids grew up with mum at home, usually in the office, I don't drive a flashy car and I don't usually sit under a tree with my laptop – nice thought though!
I love what I do with a passion, and I love that technology has allowed me to combine home and family life with having a very worthwhile career, and one that has been very rewarding. But the reality is that I spend a lot of time in my office – not outdoors. It takes a certain type of person to commit to doing this. You need to be comfortable with your own company and not having lots of people around you. You need to be comfortable with the quiet of the household (I always have a radio on but love that I'm totally alone). You need to be comfortable with your ability to troubleshoot when the computer and printer don't want to talk to one another and you have to get that job finished before the post office closes. But there is something else… you need to watch your shadow – because it grows!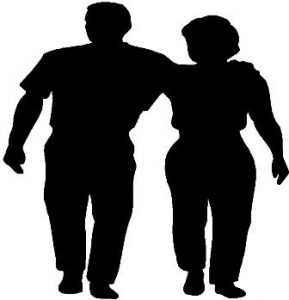 I'm sure my shadow used to be a lot thinner than it is, in fact I know it was 10 years ago. But it gradually grew wider and one day I looked in the mirror and found that I had too. It's that constant sitting down in front of the computer, just a few more minutes, just one more email, just one more job. A lack of going out for a walk – even though it's nice outside. A quick trip to the fridge or cupboard to grab something that just needs a wrapper pulled off it as I don't want to spend the time preparing something.
When I first began my business I had good intentions. I even walked down to the train station sometimes to meet my husband and walk back with him. But somewhere along the line it just got easier to hop in the car to meet him – think it may have been when he injured his achilles tendon a few years ago and we just never got back to doing the other. He works in the city in the office and although he moves from meeting room to meeting room, and building to building, he also has discovered how his shadow has grown. So, together, we are now encouraging one another with exercise, watching what each other eats and generally 'buddy' one another into a healthier lifestyle. But there is more that can be done and I've told you previously about a group that has been developed for that reason. So, if you struggle to look after yourself and need some encouragement, why not check out DiVAs, join in the virtual walks and swims and plan to get healthy again! KMT
exercise, fatter, healthier, lifestyle, shadow, work at home, technology, virtual assistants