A recent discussion at LinkedIn showed a number of experiences amongst the VAs about their back up plans, or, in some cases, no plans.  One revealed that she hadn't started her business yet but had recently lost all her data on her computer because she'd been blase about the need for backing up. She's so glad it happened before she began her business.
I've known of others who have lost valuable data over the years and it's either caused them to lose their business, or certainly to lose business before they could get back up and running again.  A computer I had a few years ago had a hard disk failure only months after I bought it. And I had gotten a bit complacent with my back ups too.  Fortunately I only lost a week's worth of work, but all the same, that's time I had to make up and replace the data, like my book keeping updates, documents I'd worked on for clients (this was before cloud backups were available) and so on.  Another thing you need to check is that your backups aren't corrupted.  I've never liked the encrypted back up systems for this reason. I much prefer the drag and drop type so you can view and read the file immediately.  Talking of which, a great program for you to use for that type of back up is called Karen's Replicator.  It was recommended to me several years ago and I've been using it ever since. Just set up what files you want to back up to which drives and set it to run nightly and leave it at that.  As I regularly go into my backup drive to view an old archived file or check something I know the files are fine and not corrupted. Same with my Dropbox file backups.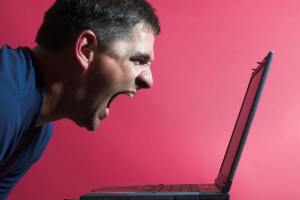 Others on the discussion shared different cloud systems they used, whether it was provided by their anti-virus program, or another source, such as Dropbox, Carbonite, Trend Micro Safe Sync, Google Drive and many spoke about the external hard drives they have in place.  A couple had USB drives for their backups.
I have both an external 1TB hard drive (soon to upgrade to an even bigger one) and a Dropbox Pro account. It's worth the $9.95 a month for the peace of mind. The small external hard drive is suitable for putting into a pocket if I had to get out my door quickly. I also have a small passport drive and a lightweight laptop that is synched to my dropbox account and also has all my important files on it.  I guess you can't be too careful how many backups you have… especially if your data is precious to your business, or you personally.
Backing up your data should be part of your recovery plan for your business, in case of any disasters.  You know, the things you don't want to think about but should prepare for… just in case.  Otherwise you might just be feeling like the guy in the pic here… not happy!