Well, another Australian VA Conference is over.  Our 9th annual one. That makes next year the 10th annual AVAC and it will be held in March in Melbourne – where it all began!  So make sure you add the dates 15-16 March 2019 in your diaries and PLAN TO BE THERE!  Honestly, the two days taken out of your business and home life will really be worth it as it will help your business move forward and you'll make so many worthwhile connections.  Let's make this photo below, double the size next year!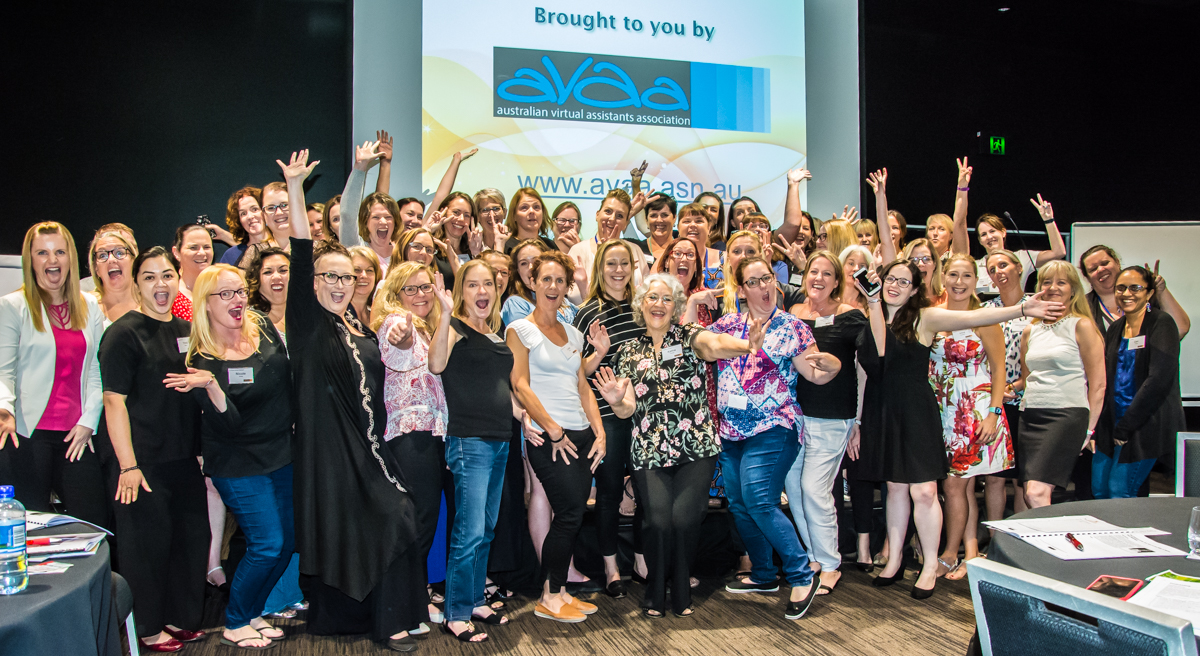 But I digress!  On with the show… We met at the Hotel Grand Chancellor in Brisbane, which was a lovely venue with its beautiful Roma Street Parklands right next door. I wonder how many delegates from the conference walked around there? I did Fridayafternoon during the lunch break but went for an hour's walk Saturday morning before we got started again. It's like a beautiful botanical garden – so colourful and lush. Compared to how dry Melbourne has been these past few months.
Katrena Friel was our MC and she was also our opening keynote looking at How to Become a Strategic Partner Virtually.  She challenged us to think about our positioning, what we might be an expert in and whether we are thought leaders and educators.  She was followed by Lauren Clemett who had us thinking about our business and personal brands and how we might spend our time on our business.  30/30/30/10 is the rule when sharing information online.  30% About, 30% News, 30% Info and the remaining 10% for Fun. It was noted that often these 'fun' things turn into memes and can go viral.
Janet Camilleri followed up after morning tea with some great info on SEO and how to get found online. Some things I knew but other things I didn't, or perhaps I should say, it prompted me to think about things I hadn't done and perhaps should. Thanks Janet!  Janet and I go way back – quite a few years. She was the Editor of a women's magazine and I helped with the website for the magazine.  Always good to catch up with her in person. I was the next speaker and I shared my thoughts on the importance of face-to-face networking – it doesn't all have to be done online. What's more, there are health benefits to this type of networking. If you missed my presentation, perhaps you need to be at the next one I present 🙂
After lunch Lyndal Harris, the PodCastVA shared lots of information. I have toyed with the idea of doing this and know I need to, but now I have the impetus to do something about it.  She even gave us a step by step list of the order in which we should get things set up so we don't start running before we're walking. Hoping to launch later this year.  Next came Kate Norris talking about how to use video to market our businesses. She made it sound all so easy. Much as I love being behind the camera I still don't feel comfortable in front of it – especially video. But I might have to bite the bullet there too! Seemed fitting that she followed Lyndal's presentation.
Finally, for the day, we had Heather Frame who shared about building a team around us and then helped us to look at the hours we work in our businesses, followed by Sally Thibault who gave a demonstration to us of tapping and smashing self-sabotage. I wonder how many of us do that? Too many I suspect.
Dinner was in the hotel and we were a very noisy, chatty group and we had lots of fun over some really great food.  They really did the room up nice for us too.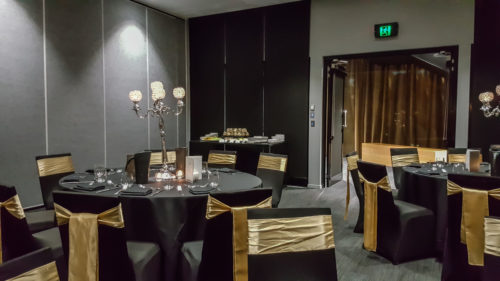 Bright early start for me on Saturday (I got up just after 6am) so I could go for a refreshing walk before being back indoors. The weather was lovely and was dry, which was nice as I know Brisbane/Qld has had a bit of wet of late.
Our keynote for Saturday was Michelle House and it was about clear intentions and setting goals. She said something that really rang true for me. Now, some of you, but probably not all, will know that apart from photography, gardening is a passion of mine. I combine the two most of the time. And you probably know that plants need manure in order to help them grow. Michelle's analogy really hit home when she said "Shit is the best fertiliser; it helps you to grow". Her words – not mine, just so you know :-). Anyway, she's right. It not only helps plants to grow but when we've been through some really tough times, we tend to assess what went wrong, or what we can do to make it right, and move forward. I wonder if I can photograph some chook poo and make a poster out of those words? lol. She encouraged us also to be good stewards of our money and to develop a 'peace of mind fund' to cover expenses for at least 3 months.
James Flaherty was our Mr Flamboyant with his bright orange tshirt and 'Social Beast' emblazoned across it. He gave us the story of how that came to be. He had some great stories and encouraged us to use highlighter for 'crossing off our to do lists' rather than a pen. Looks happier. He shared on some growth strategies too. Amanda Vanelderen followed encouraging us all to consider that we are writers – every single one of us, and we do it on a daily basis through our businesses. Amanda gave us strategies for even better writing.
Rosie Shilo talked to us about being a Stand Out VA and gave some fantastic stats that I'd not known or thought about before. Thanks Rosie! That spoke volumes and should hopefully have encouraged all of the new VAs that there are plenty of clients out there.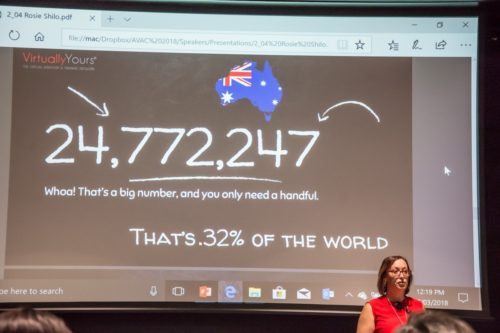 Derek Rowe was next and he'd spent some time the previous evening chatting to our delegates and getting a feel for how they think, what they do and who these Aussie VAs are.  His presentation was excellent and he helped us to see when our most energetic times of the day are and when we should be tackling those harder tasks.
Our last speaker, was Andrea Smith. I didn't catch who she's married to – missed hearing the name, but did hear The Masters Apprentices mentioned and they were a band that was well known during my own teen years (yes, showing my age).  Important thing about her presentation is knowing what we're allowed to use online – with respect to images, the importance of copyright and our own material that we write. And there's no such thing as something 'being in the public domain and can therefore be used'. Everything is out in the public but that doesn't mean it's free game. Nor are we allowed to change something by 10% and call it our own. She knocked a few myths on the head with respect to copyright.
Anyway, this just goes to show, if you're an Aussie based VA and missed AVAC this year – you shouldn't have.  And now is the time to plan to come to next year's event. Start putting away for it so when bookings open, you can get your booking in place, pronto. I'm sure that the committee will have lots planned for the event. And I look forward to seeing you there. I celebrate 25 years next year!  A milestone for AVAC and for me too.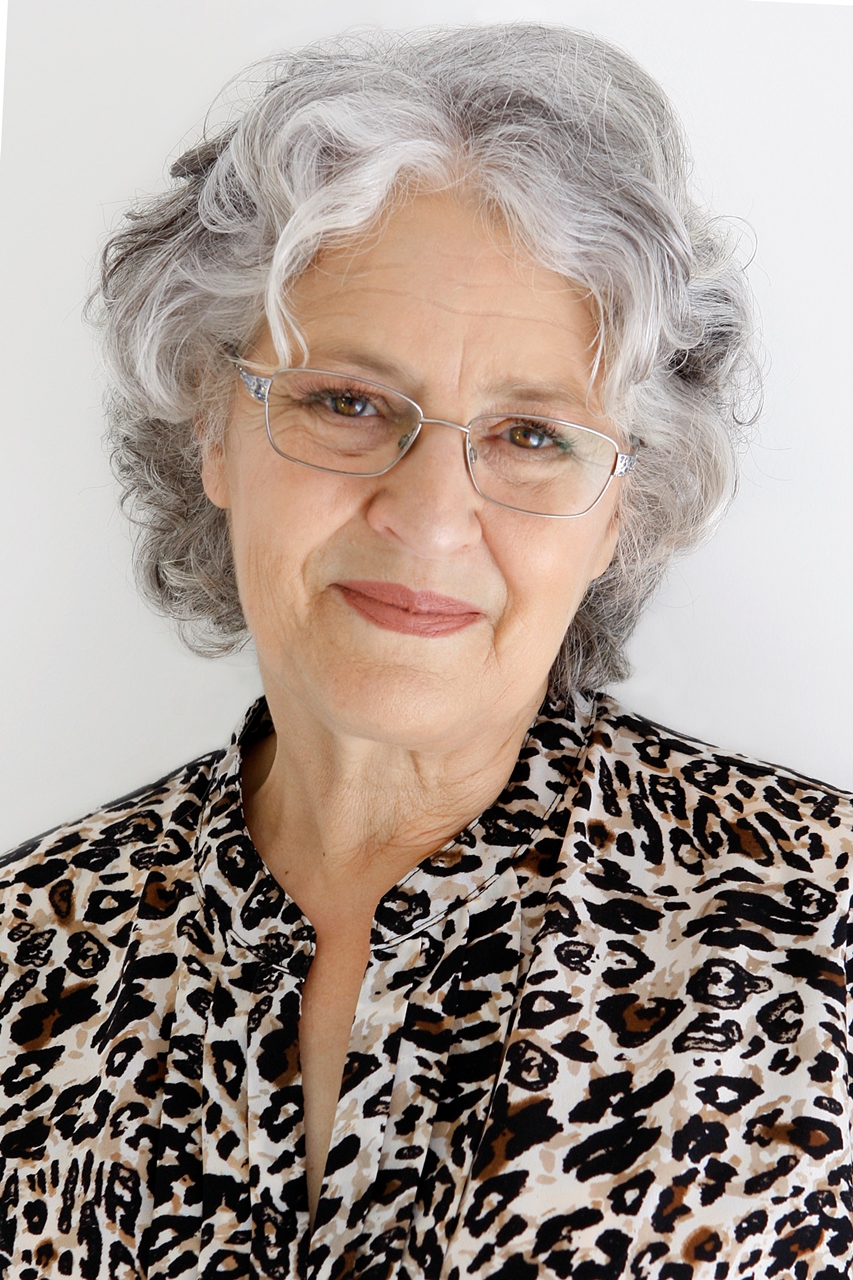 Kathie is the owner of VA Directory and is former past President of the Australian VA Association. She founded the Virtual Assistant industry in Australia in the mid 90s, having already been operating a home-based secretarial service. Today the VA industry covers a multitude of office-based services for clients worldwide.