This question comes to light often these days because so many people (and countries) have variations on what they believe the term 'Virtual Assistant' means. It came about because a business coach named his assistant that title as she worked miles away from him (in the US) and he coined the phrase 'virtual assistant'. The coach was Thomas Leonard and the assistant, Stacey Brice. This was back in the mid 1990s and the term stuck and gradually the home-based secretarial industry adopted the phrase as it was an accurate description of how they worked and what they did. Today VAs do much more than admin and secretarial type support as technology has changed and developed, and therefore the nature of what VAs do has changed and developed.
Wikipedia describes the term as this: A virtual assistant (typically abbreviated to VA, also called a virtual office assistant) is generally self-employed and provides professional administrative, technical, or creative (social) assistance to clients remotely from a home office.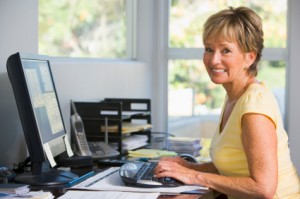 A Virtual Assistant is an independent business owner/operator, just like graphic designers, web designers and other business support services are.  They set their own rates which relate to where they live, i.e. their cost of living, their currency, their skill-set and so on. Generally they need to have a minimum 5 years' working experience – and most VA networks expect that kind of background before accepting them into membership. Initially VA networks were established for two reasons: One – the owners had more work than they could handle personally so wanted to develop around them a group they could depend on for outsourcing work, and two – so that fellow VAs had a place to learn about the industry, get connected with clients and have a presence online as they establish their businesses.  Later more networks or organisations were created to help the development of the industry. And it is an industry in its own right. So the term 'Virtual Assistant' relates to an industry in general.
There are many VA networks around the world now, mostly in the US, Canada, UK and Australia but there are other countries with networks too.
If you'd like to read more about the history of the VA industry (and my involvement with it) click here.