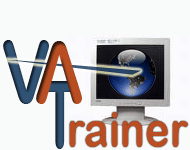 Are you planning to start a Virtual Assistant business but not quite sure what to do or how to start? Or, perhaps you've been operating for the past year, but struggling to get clients or wondering what you should be doing on a regular (daily) basis?
The VA Trainer course was written with you in mind. Launched in 2006 VA Trainer has had many VAs register for the course and continue it through to completion.  Delivered by email over a 10 week period, you have a total of 20 weeks to complete the course and get your homework back to me for marking.  Do you have to send in the homework? Not at all – that's up to you.  Some complete the course quickly and others choose to take a longer period.
There is a complete course outline on the site with information on my background as a Virtual Assistant.
If you're quick you can get it at the Christmas Special price and also receive membership of the "A Clayton's Secretary" VA Directory to receive work from clients in the new year, but also to benefit from the many other member resources we have available for our Virtual Assistant members.
So, what are you waiting for? Sign up for VA Trainer today!