This is the second of our series. Frances has been a long term member of our VA network – since 2002.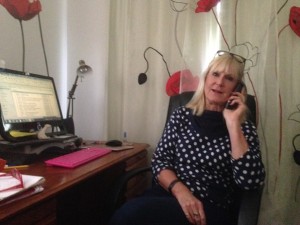 My name is Frances Lowe and I have been a VA for the best part of 15 years. Started as a VA in 1998/99 and was working in recruitment.   I was working freelance for an international procurement consultancy. I had previously worked in recruitment and had run my own agency back in the eighties.
I started with Clayton's in or around 2002 and am still a proud member.
I suppose the main reasons I started to work from home were convenience, flexibility, autonomy, and getting out of the corporate world and its politics, is probably one of the better things I have done in my life. I lived and still live quite a distance out of the City of Melbourne and back in those days we still often had to go to a new or prospective client to introduce ourselves. That seems to be a much less frequent occurrence now. Being a VA is perfect for my lifestyle.
Through the years I have found my niche; two to be exact. I enjoy transcription work and have worked for a number of market research companies.   Transcription is a skill and isn't as easy as most would think, to do it properly. The other niche is Telemarketing Business to Business which I love.   I started doing transcription work years ago when I was working as a PA and doing transcriptions from recorders (old fashioned cassettes – those were the days).
I have always been in sales related jobs so telemarketing is second nature for me.  I train people in telemarketing. I have often thought of writing a book actually. Might still do so.
VA work is ideal for the self-motivated person. If you are lucky enough to have no interruptions then it would work for you. If you do have interruptions then I'd recommend you choose your times wisely as to when you can work.   This would obviously depend on what type of work you choose to do.
There are certain ethics that VAs MUST adhere to. Not enough room to go into them here but I'm sure Kathie has lots of blogs and information that you can call on for these important guidelines.
I can't imagine working any other way now. Most of my work is now by word of mouth which is an ideal situation to be in. I don't have a problem networking and marketing myself which you really need to do if you are just starting out. Just get the word out to friends and relatives and go to some networking events armed with your business card. Have fun! You'll be great and you'll love it.
Frances Lowe
Hullchester Pty Ltd.
+61 3 5783 4241 / 0413 186571