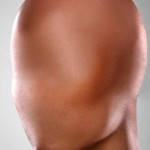 Social and business networks offer the opportunity for people to show their faces online when connecting with others.  Which is why they have a place for uploading your photo.  On social networks people often use images of their pets, favourite artists or their kids but when it comes to something relating to their business I really do believe they should be using their own photos.
There are some who say they think their photo would get in the way of others doing business with them but I do believe this is about self-confidence, or a lack thereof.  Do these same people go to face-to-face meetings wearing a mask and covering up their faces? I doubt it, unless perhaps they never go to face-to-face meetings.
The important thing is to let people get to know you which is what networking is all about – building relationships and getting to know people. You can't do that by hiding your face or remaining faceless online. It's hard to build a relationship and get to know someone if they're remaining invisible or faceless.
With respect to LinkedIn, it is really important to read the User Agreement when it comes to the use of photos for profiles. Item 6 of section b of the Dos and Don'ts state: 'Don't upload a profile image that is not your likeness or a head-shot photo.'
For those seeking a job, recruiters use LinkedIn regularly to find possible candidates to fill positions, a faceless person is going to get less attention than one with a photo… and at that, it should be a photo that is professional or at least isn't a party pic and your face is recogniseable. In other words it should be a head-shot photo.  For those running businesses, it helps others who want to do business with you, or refer you.
I know when I meet people face-to-face they recognise me quickly because they've seen my photo online. Certainly helps if you've not met the person face-to-face before.  Make it easier on yourself and others and become recognisable by using your photo when business networking online.