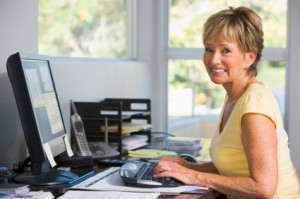 While the Virtual Assistant industry may sound like it's one for 'younger' people the reality is that those who are of a mature age with good administrative skills are well placed to be a Virtual Assistant.
Perhaps you've been made redundant, had to leave your job due to ill-health, or you have elderly parents or a spouse that needs to be cared for.  You have time on your hands, need to bring in more income and have good computer-based skills, good administrative skills, reasonable understanding of using the internet and have a good computer at home. If that's the case then you're well placed to become a virtual assistant.
Recently there was a discussion on a VA forum I belong to where a lady in her 50s was asking if it was too late for her to start up her own VA business? The answer was a resounding 'no, you're not too old' and many came forward who are in that age group,  and older, sharing their experiences on setting up a VA practice.
I'll let you into a secret.  Well, it won't be one now, will it? 😉 I'm in my 50s too.  While I began this business over 20 years ago I never imagined I would still be doing it once my daughters had grown up and left home, and yet, here I am, operating a full-time business as a virtual assistant.  Why? Because I love the flexibility and freedom of working in my own home office, choosing the type of clients I like to work with and doing work I enjoy. I would feel stifled back in a corporate job, having to work set hours, and having to travel to and fro work every day (I honestly don't know how my husband does it).
So, if you, or someone you know (male or female) is of a mature age, with good computer skills and looking to work at home, why not explore this further? Read the article on this site called Become a VA and make a decision to join our team today!