'Admin Overwhelm': So many business owners are overwhelmed with the amount of admin and paperwork that needs to be done to keep their businesses running.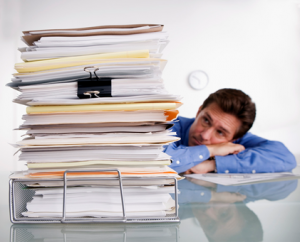 I regularly chat with other business owners via phone, email, online forums and also face-to-face networking who tell me they are drowning in paperwork and struggling to develop systems to manage the overload of administrative work that arises through the day-to-day activities of running a business.
It seems to creep up on them and suddenly they find that things are all over the place, or they don't know where to find something, or they forget to regularly keep in touch with past and present clients through the use of newsletters and blog posts. When I talk to them and say they really need to do these things, they say they know, but they just don't have the time, or they don't have the money to pay someone to assist them.
The problem is their time is never going to be freed up so they can work with more clients and earn more income while they remain buried under their administrative needs. And some of those needs reach into the marketing needs of that business too, such as regular newsletters and blogposts, let alone social media contact. Something has to give and often it's the business owner – they get burnt out, they struggle to earn what they need to be earning and often give up, returning to the workforce.
If you find you're struggling with admin overwhelm, why not contact our office today to discuss your needs? It may well be that simple systems could be put in place to help you manage things better, or you may find the long-term support of a VA, even if just a few hours a month, will be able to get you back on track for what you intended with your business. The reality is you need to consider how much an hour of your time is worth.  And is it worth spending some of that to secure the services of a great VA so you can be earning more income during the time the VA is looking after your admin? Often a VA can do it in much quicker time than most other business owners can. Worth thinking about, isn't it?