I'm seeing an increasing trend of people creating brand new websites for their businesses but neglecting to put the most important information on their sites!
Namely, how to contact you.
Personally I don't like doing business with people who only have a contact form and no other form of contact on their site. Makes me wonder what they're trying to hide. I know, from personal experience, that many prospective clients like to pick up the phone and talk to me. Why wouldn't clients want to do the same with you?
The various rules of marketing I've read over the years have also indicated you should provide several forms of contact methods for your business.  Here is a list of things that you can choose from and you should have at least 3 of these on your site.
Phone number, with country and state codes. Remember that your business is global when it's on the Internet so treat it accordingly.
A form that leads to your email account – especially if you don't want to have your email address listed. Or there are codes you can use to help protect your email address from getting picked up by harvesters.
A postal address, but if you only have your home address, then your city, state and country. Don't leave people guessing where you might be. Some clients like to know they're working with a 'local' even if it is virtually.
Fax number if you have it.
Social media account links – let them find you in other places too!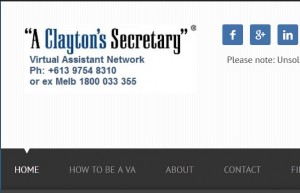 Make this information easy to find. For example, you might want to have it all on the contact page BUT having a phone number in the very top of your site will increase the number of calls you receive – this has to be a good thing!  Also having your social media links visible on the home page works well too.
Additional items that I feel are very important:
Your name – let people know who you are and who they are addressing. Not just your business name.
Currency – if you're going to list rates, then include your currency. Clients like to know what currency they'll be paying in.
About information. Don't hide behind a business name. Use your own name and list your experience – let clients know why they should be using you based on what you have done in the past. Anyone can say they're a premium service or provide fantastic support. Back it up with your knowledge, experience and background.
If you want people to do business with you then make it easy on them to learn about you and how to contact you.