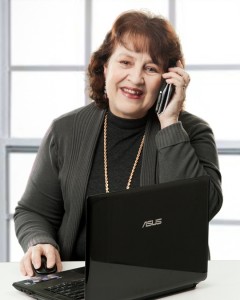 If you're a regular reader of my blog and visitor to my site, you'll know that I run a Virtual Assistant Network and also provide VA Training via a 10 week course delivered by email.  Many may think I don't do much else, other than participate on forums and social media, but I thought I'd give you some insight to what I do.
I still service my own clients. Why? Because it's part of my income stream but also because I enjoy the work I do.  I currently provide Secretariat services for an NFP organisation, Social Media support for several clients and another NFP organisation, web hosting and web design for a multitude of clients, and occasional newsletter set up and sending for more clients. Periodically some word-processing, PowerPoint presentations, and database management.  There is one client overseas, for whom I receive mail, do regular scanning of items received and then printing off letters and invoices for him to mail back out to his clients. I do around 25+ hours a week supporting these clients.
That's the 'usual' type of client but I do have another type. And that is the Virtual Assistant, generally those that are new to the industry, although I have many in my network who have been VAs for nearly as long as I have been.  There are days when I might get several email requests for advice or support in some way.  Or phone calls from someone wanting to find out about becoming a VA. They feel comforted by the fact that they can talk to a 'real' person rather than just filling out a form or sending an email. I regularly receive email contact from those doing my VA Trainer course. And when homework has been received I need to spend time going through that, marking it, adding comments and preparing a letter and certificate, along with the marked homework to send back to the VA student.
I get periodic potential clients also calling to find out how to use a VA and how it will work for them. Ok, some of them might be tyre-kickers, but I still give them time to help them learn about and understand more of the VA industry.  The more information I can share about the industry, the better. I think of myself as an educator in that regard.
And just in case that's not enough, I'm also on the sub-committee for the Australian VA Conference (currently planning our 6th event for next March) and President of the Australian Virtual Assistant Association.
So, there you have it. I lead a very busy life in the VA industry and enjoy being a part of it.