A chance comment at a VA forum made me think about building in general. When you're building a house, there's a lot of planning and preparation put into place. The piece of land is checked by a survey engineer to ensure the land is sound and that the building planned will be structurally sound on that land.  The architect goes to great lengths to ensure his plans are suitable for the owner's needs. The builder reads the plans, works out what materials are needed and costs involved, who he needs to engage to assist in the project and sets timelines for the job to be done. Foundations are laid to ensure the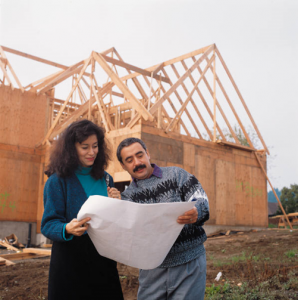 house will be stable and strong, and will withstand strong winds, heavy rains, droughts, shifts in the land beneath, and so on.  Everyone knows that a house is not going to be built overnight.  And that it's going to cost money… big time. You can't build a house on virtually nothing.
So, why do people think a business can be built overnight?  There are many similarities involved.  Planning is required.  Things such as what type of services you'll be providing, how much you'll charge. Will you operate under your own name or a business name? If a business name, it needs to be researched, checked, ensured that it doesn't infringe on someone else's trademark, registered and possibly trademarked.  You need to notify your bank and set up a business account in the business name.  You need to locate a suitable accountant, who knows how to look after a small business and make sure you're set up properly. You may also need a solicitor. And what about a business coach who can help you build strong foundations and ensure your plans are on track?
Then there are business cards, business stationery, equipment such as a computer, printer, a suitable desk to sit at all day long, a comfortable and ergonomically correct chair to look after your body.  You need to create a marketing plan and plan to find clients and reach out to them. This will mean networking on a local level, close to where you live and will be working, as well as networking online.  You'll need to plan what you wish to earn in a year and set goals to help you achieve that aim.  You may need to undertake training, either ad-hoc or a series of courses. And perhaps find a mentor to help you along the way.  Joining discussion forums for your industry will also help guide you along the way.  No business is ever truly built by one person.  It's built by connections and a series of people who contribute in one way or another.
Some people are seen to be overnight successes but few actually see the hard work and time put in before that 'overnight' success took place.  It just means those people weren't visible before that time. True, some strike it lucky and pick up a great client very quickly that helps them on their way.  But it takes more than one client to have a successful business. You run a fine line between being classed as an employee by your country's tax department if you have only one client, and being a business owner.  It can take between 6-24 months to build a Virtual Assistant business that is running regularly. And longer before it can really be classed as a successful business.  I would say at least 5 years.  Because it's a known fact that many businesses fold in the first 5 years of operation.
So, if you've just recently been made redundant, or are sick of your job and want to leave, having a Virtual Assistant business might sound like a dream come true. But it only comes true when you put in the hard work to make it happen. And it's not going to happen overnight.  You need to have funds available to cover both your costs and your living needs during the time you're building a business.  You can't build it on nothing. And just as it takes time to plan and build a house, and lots of funds too, planning and building a business will also take time with access to funds to get you started.  Obtaining a part-time or temp work to keep you afloat while building a Virtual Assistant business is probably a good option for many.
If you are new to this blog you may wonder about my own background and how I got started as a Virtual Assistant.  I left a government job and took twelve months leave without pay in 1993. I knew I had a job to go back to.  I already had a computer at home and relevant software but had to invest in a decent desk, chair, printer, filing cabinet, etc.  My husband was in a full-time job and I had his support and encouragement. I began a home-based secretarial service in 1994 that took a good two years to build to a full-time business.  Twelve months after I left my government job I had grossed the same income as my previous year in my govt job. I knew I'd made the right decision and handed in my resignation. Eighteen months after I began my business the Internet entered the business scene and changed how I was doing business. I no longer had to go running around from one client to another, but rather handled their work via phone, fax and email.  I had entered the world of working virtually and continue to work that way today. I love this industry and all it has allowed me to do, and also how it has allowed me to help and guide others do the same as I do.  I hope that it will also provide you with many wonderful opportunities so you can enjoy this kind of work/lifestyle as well.