I got an approach recently, from a company wanting me to outsource my VA work to them. They told me they wanted to partner with me. Naturally I went and visited their site and in particular, checked out their 'about page'. Pretty much a stock standard paragraph or two on the services they provide but nothing about who 'they' are, no names, nothing about their knowledge, experience, background, no photos (other than stock photos).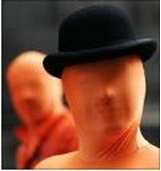 In other words they were faceless and there was no way I could look them up to learn more about these people who wanted me to do business with them.
I see quite a few VA sites, particularly those who approach me to outsource work to them, and find this same thing. The sites are almost a copy of each other, as though they'd bought a cookie cutter template, complete with the wording. Why would I want to do business with people who can't even identify themselves and back up their promises with years of experience and knowledge?
As a VA you are providing a personal service to other business owners. They want to get to know you as a person – not someone who is faceless and nameless. Don't hide who you are but make yourself available and let others get to know and trust you. Show your photo, share your experience and background – your website is really your CV and if you want to gain clients, you need to give them some confidence in your abilities and to even know whom they're addressing if they call or email.