Online Business Manager
Pepper Potts Virtual Angel
ABN: 96 1797 285 91
E: yasmin@pepperpottsva.com.au
M: 0407723080
Availability: Mon, Tues and Wed 9am – 2pm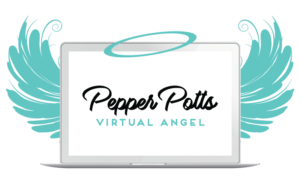 I'm a highly-efficient Online Business Manager (OBM) and creative social media marketer working with creatives, digital marketers, coaches, course creators and other established small business owners.
I work with fellow mums in business who are struggling to find that sought-after balance between having family time, and enough time to do all their business bits. More than an ad-hoc admin assistant, I work collaboratively with you, working in your business with you and accepting your business baby as my own.
SO WHY WOULD YOU WANT TO WORK WITH ME?
You get dedicated time: When you work with me, you'll have hours booked so you know you've got dedicated time where I'll be working on your business. You can set your tasks (I'll help you set up task management tools too if needed) and then leave it with me to get completed.
Your team will be managed: Coming from a fast-paced corporate world where I managed teams, I can coordinate your contractors to keep projects hitting targets and tasks being completed. I have outstanding communication skills and know how to manage teams with respect and courtesy.
Your biz bits get done: You don't need to be doing the little business bits anymore as you're established and have a client base to look after. I'll ensure your processes and procedures are documented and your projects are managed so you keep moving forward. I'll also help you work out your business strategies and work towards achieving your goals.
You'll stay social: If you're not a lover of social media but know it must be done, I can help you with the hard yakka part and help you remain consistent – strategies, brand building, content creation, posting, design etc. But I encourage you to put aside still a little bit of time to answer your adoring fans as they'd still want to hear from you.
You won't be alone: We all need a sounding board in business – someone who gets it, let's us vent, then kicks us back in the right direction. As your trusted OBM, I'm in it with you so you'll never feel alone. I treat your business baby like my own, and your success is my success and makes me happy.
Here's what a client had to say:
'She took the reigns when I needed to step back. Yasmin managed my contractors, website builds, social media scheduling, SEO services and advertising campaigns. She provided client support and even implemented new processes to improve the business' efficiency. Yasmin is an asset to any business'.
Shell Trimble, Poppy Seed Media.
Contact me today to see how I'll help you: yasmin@pepperpottsva.com.au.