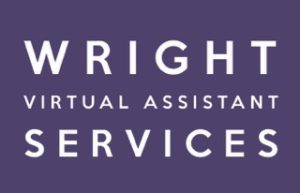 I'm here to help you run a profitable and thriving business by providing support and doing the tasks you either don't have time to do or don't want to do, without the cost or hassle of having to hire a full-time employee. By utilising a VA you can focus your time on growing your business.
I am a reliable professional with many years experience across all areas of Administration, Executive and Personal Assistance as well as Office/Facilities Management. I am highly motivated, organised and a fast learner. I am passionate about working with successful business owners to see how I can assist them with their business.
Wright VA Services can support you on an ongoing basis or with a one-off task/project, it's completely up to you.
I provide a variety of Virtual Assistant services such as:
PA / EA duties – diary and calendar management

Word / PowerPoint / Excel / PDF document creation, formatting / editing

Organising Travel – flights, accommodation, Visa's etc

Systems setup and implementation

Event organisation and management
My services are charged at an hourly rate, however, I can tailor a package that suits you if you need help on a regular monthly basis or looking for help with a one-off project.
Please feel free to contact me for more information.
Natasha Wright
Wright VA Services
Mobile: +61 414 588 947