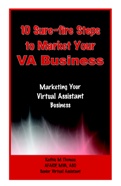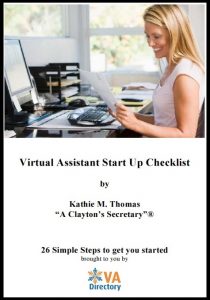 Looking for information on starting up as a Virtual Assistant? What about marketing your new business? Both available for you here in the form of ebooks. Simply register below and you'll be sent the link for the ebooks.
10 Sure-Fire Steps to Market Your VA Business
Virtual Assistant Startup Check list
Both will get you on your way!
"I have been a member of A Clayton's Secretary for several years now and I have always found Kathie to be a dedicated and very knowledgeable person who is a leader in her field. I am always amazed at the many endeavours Kathie undertakes yet still finds time to be a Virtual Mentor as well as a great support to me and the other team members. Kathie is a great moderator of our online group and I have also come to consider her a "virtual friend". Among her passions are writing, public speaking, blogging and Kathie is also a VA Coach. Should you at any time require any of the services Kathie provides you won't be disappointed!" Monika Newman, Owner, Monika Newman
Learn what you need
Everyone has to start somewhere! These two ebooks will help you plan and market your new VA Business.
Advice from a veteran
Kathie has been a VA for almost 25 years – full time! The information here will help you on your journey.
More support available
"Kathie has given me great confidence in setting up my own VA business, which thanks to her and "A Clayton's Secretary" it has grown from strength to strength. Belinda Hazeldine
to receive the two ebooks and more information about being a Virtual Assistant.