Dare I say it? Christmas is not that far away now!  So time to start thinking about your Christmas lists.  You know, not just family and friends, but loyal clients, colleagues, people you work with. And if you want to include that specialised touch you can use your own pictures or design a card completely of your own, and still use your handwriting without having to experience writer's cramp.
Have you revisited Send Out Cards lately? It really is worth a visit. Regular readers will know I'm a keen photographer so use my own photos for images on cards but this system has so many options for design that you don't have to be a photographer or even an artist. They have a form for you to fill out with the alphabet, which is uploaded to the system and becomes your own personalised font or you can choose one of the other fonts available.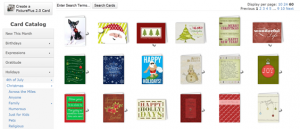 You can now have an account that is called 'Pay-as-you-go' which is literally that, and there are three other account options too.  I'm a Marketing Distributor but there is also Preferred Customer (that's the cheapest option per card if you don't want to be a distributor) at $31 per month, and Retail Customer at $9.80 per month as well.  Click here to investigate and click on Join Now button for all the options.
And if you're concerned about the ease of use, why not send a free card on me? There's a link for that too.