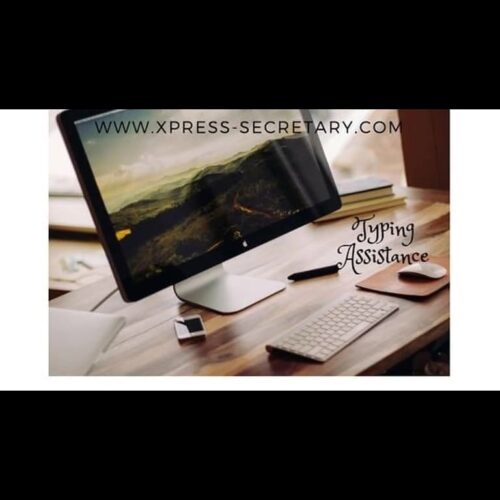 Business established since 1999, offering typing assistance to small business owners, entrepreneurs, general public, academic institutions, professional consultants, trainers/teachers, students, research groups. Trained in Pitmans Secretarial Diploma, and continually updating training skills in computer software applications and other Secretarial courses. Most recently obtained certificate in H&R Block Income Tax course.
Types of services offered:
Typing and Word Processing of simple to complex documents in Microsoft Office
PowerPoint presentations
Excel database/spreadsheets
Transcriptions of legal, medical, research focus groups, staff interviews, building reports, general business or private matters
Database
Website creation and maintenance
Social media set up and manage – Facebook, Twitter, Pinterest, Instagam, WordPress
Associations management with memberships, seminars
I have worked in several types of organisations applying my skills and expertise in high keyboard and computer skills, clear organisation and communication skills. I have also used my initiative in streamlining office systems to work more efficiently. I have also been involved in setting up new offices and setting up systems.
Types of clients I have worked with include Trainers/Teachers/Coaches, Academic institutions, Lawyers, Barristers, Medical Consultants, Associations, Research Groups, Engineers, Real Estate.
I enjoy working as a Virtual Assistant and helping people with providing excellent presentations, documents and running their routine office admin while they focus on their own business.
~ Regards
Mary Jordon
I started my business as a Virtual Assistant in 1999. I provided secretarial services to local businesses in Melbourne and to students, entrepreneurs, business consultants, sole traders, universities, associations. Most of the work involved assistance with typing assignments, business documents, resumes, word processing and formatting of documents. I also assisted job seekers with their resumes and obtaining work during periods when companies closed and employees made redundant. As the internet grew, I started working with international clients in word processing and digital transcriptions. Working as a VA online increased my knowledge of online web applications. I developed skills in Web sites, Blogs, social media, networking online. Prior to 1999 I worked as a Personal Assistant/ Secretary for various organisations including Academic, Healthcare, financial, legal, manufacturing companies. My secretarial qualification gave me skills to work in any area. With the introduction of computers in the 1980s I was given sole responsibility of word processing of all company policies, procedures and standard documents electronically. Throughout my career I have worked in senior confidential roles requiring professionalism, integrity and high skills. I have high skills in Typing and data entry with high accuracy and terminology.
I have enjoyed working as a freelance Virtual Assistant and look forward to working with you.