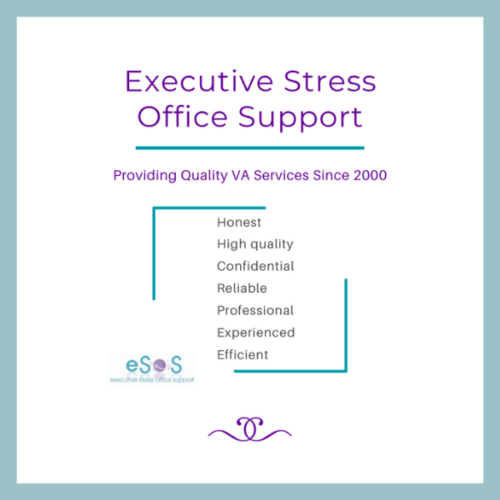 PO Box 6165 , Queensland Maroochydore BC 4558, Australia
eSOS offers a range of services but specialises in digital transcription, document production, and executive PA services. We are detail-oriented allowing you to focus on your creativity and your business.
Since February 2000, we have been providing high quality, confidential remote secretarial and Virtual Assistant support to clients across Australia, the UK, the USA and Canada.
Directors and consultants benefit from our many years in executive PA roles, offering a range of services including transcription, diary management/appointment scheduling, travel arrangements, expense claiming, meeting and event management, invoicing and payment follow up, document production and formatting, and general PA services.
Medical and legal professionals benefit from our detail-oriented, confidential transcription service.
We have been working with international clients since 2000 providing a wide range of other services including:
online database maintenance
mail outs
WordPress site maintenance
desktop publishing
link qualification
article submissions
proofreading/editing services
social media support
What's the one thing you have on your plate right now that you don't like doing, or shouldn't be doing? Contact us and we'll help you work out a process for alleviating overwhelm.