Renee Mark : BAOS Services (Bookkeeping, Administration & Office Support Services)
ABN: 42 586 123 379
Email: enquiry.baos@gmail.com
Website: http://www.baosservices.weebly.com
Mobile: 0403 243 168
Facebook: https://www.facebook.com/BAOS-Services-1227556303945879
LinkedIn: https://www.linkedin.com/in/renee-reedus-597250122?trk=nav_responsive_tab_profile
Available: Monday to Friday – weekends and pubic holidays by prior arrangement.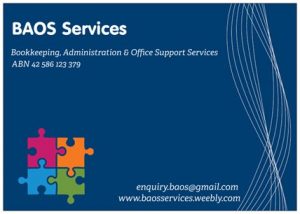 Are you drowning in paperwork?
Are the accounts piling up?
Are you having difficulty creating personal or business documentation?

Hello, I am Renee and I am the founder of BAOS Services. I am a virtual assistant contracted for the purpose of providing high quality Bookkeeping, Administration and Office Support Services for both individuals and business's.
With over 15 years of administrative experience I am here to assist you with the day to day running of your business, and once off projects for individuals and business's.
I can assist in periods of high demand, provide regular ongoing support on a weekly, fortnightly and monthly basis.
I can complete on-site visitations depending on your location. There is no job too big or small!
If you do not see your required service listed below, please contact me to discuss your specific requirements.
ADMINISTRATION SERVICES:
Spreadsheets
Graphs & Charts
Procedures & Flowcharts
Forms
Data Entry
Dictaphone
Customer Service
Correspondence (email, faxing, letters etc.)
Training Staff Members (administrative, bookkeeping & office support)
Employee Manuals
Internet Research
PowerPoint presentations
Newsletters
Social Media maintenance
Website maintenance (basic)
Classifieds & Advertisements (online auction sites & newspapers)
Flyers
Resumes
Letters of Applications (cover notes)
Addressing Selection Criteria's
BOOKKEEPING SERVICES:
Accounts Payable
Accounts Receivable
Payroll
Superannuation
Invoicing
Payroll
Purchase Orders
Sales Orders
Reconciliation
Fees start at $25 per hour depending on the project, and are charged at 15 minute increments.
PERSONAL SUMMARY:
A dedicated Bookkeeper with extensive experience in Payroll, Accounts Payable, Accounts Receivable, Data Entry & Office Administration.
I have strong problem solving skills & efficient attention to detail. I am a quick learner with proven adaptability to new technologies & applications. I am experienced in the development & training of staff members.
I have completed Certificate III in Financial Services, Certificate IV in Training and Assessment & have completed MYOB AccountRight training.
Save