Online Business Manager
Pepper Potts Virtual Angel
ABN: 96 1797 285 91
M: 0407723080
Availability: Monday and Tuesday 9am – 5pm, Wednesday, Thursday and Friday flexible hours by negotiation.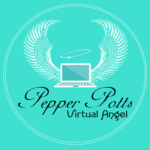 Hi, my name is Yasmin Johnstone and I am the owner of Pepper Potts Virtual Angel, based in Victoria Point, Brisbane.
I am an Online Business Manager and Virtual Assistant specialising in:
Business Process and Policies – assist in the review of outdated documents/create fresh documents,  make suggestions for improvements and streamline to improve efficiencies, document final outcomes, and ongoing file management
Contractor and Customer Relationship Management – source and/or manage suppliers and associated contracts, source quotes, coordinate and oversee workload of staff, manage CRM systems/databases, callbacks, invoices, accounts payable and receivable
Business Administration – (Microsoft 365, G-Suite, Word, Excel, PowerPoint)  data entry, reporting, document formatting, database and spreadsheet management, mail merge, minutes, timesheets
Marketing –  research and document your Marketing Plan, manage graphics and coordinate approvals, source and manage external suppliers including printers, distributors and logistics
Project Management – training and development, print management, event coordination, travel and accommodation, bulk marketing and mailouts
Email Management – sort and organise inbox or ongoing management
Calendar Management – coordinate bookings, appointments and cancellations
Social Media Management (Instagram and Facebook) – skilled in using CANVA, manage uploads and monitoring of Instagram and Facebook pages.  (More will be added to this skill set when I complete my Diploma, Social Media Marketing and Management – 2019)
Experience: 
Management: I have spent the past 10 years in business and operational management for a large Government Department.
Administration: I have over 20 years experience in office administration in a range of roles and industries including:
Team Leader/Management
Project Coordinator
Training and Development
Human Resources
Online Insurance Systems
Business Support Officer
Qualities I bring to my clients include:
Professional and Honest
Motivated
Reliable, Flexible and Hardworking
Strategic Thinker
Effective Communicator
Highly Organised and skilled Planner
Excellent Interpersonal Skills
Adaptable and Flexible
Positive Attitude and Energy